When a homicide case is prosecuted as capital, there are ramifications for the justice system.
The Fiscal Consequences
It is well documented that death penalty cases take longer to make their way through the courts.  The 2014 Kansas Death Penalty Advisory Committee Report to the Judicial Council studied this impact from a cost perspective. Whether the case went to trial or was handled as a plea bargain, the costs were significantly higher when the death penalty was involved.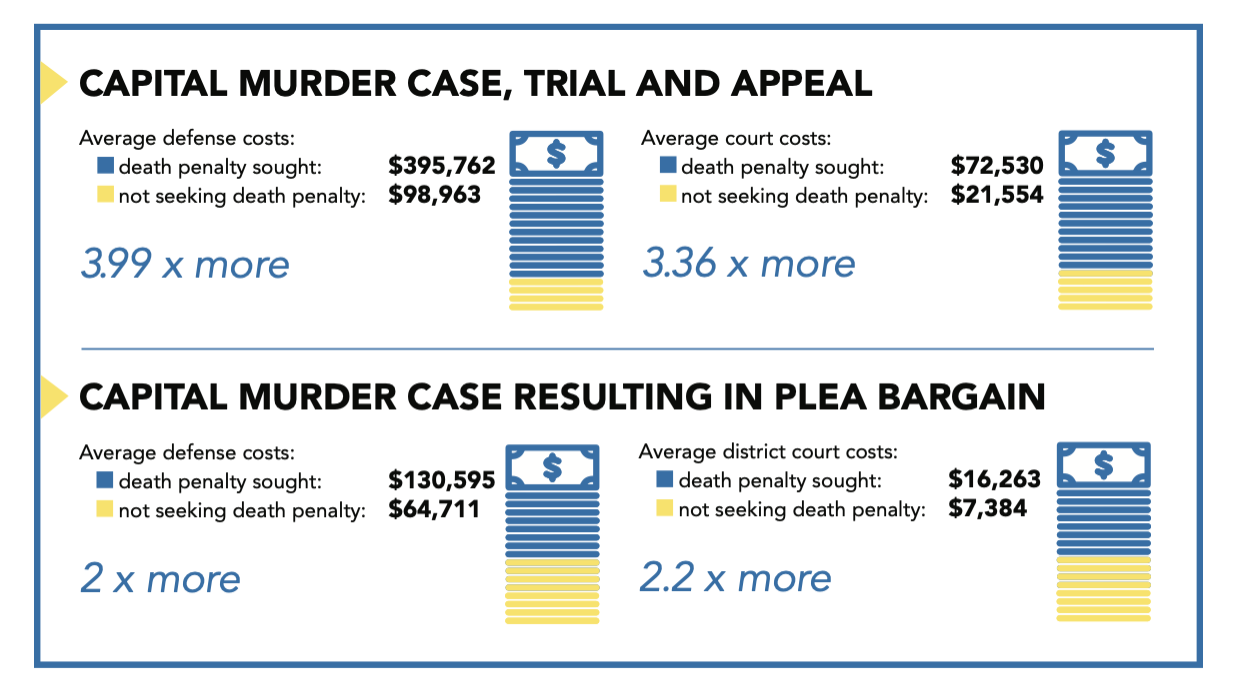 Impact on Other Cases
The impact of the death penalty though isn't just on the budget.  It also impacts how the system can handle other cases before the court.
In a January 2004 Kansas Death Penalty Advisory Committee report, Judge Donald Noland of Pittsburg, the 11th Judicial District, noted the impact of a capital case on the whole docket.
"It also bears mention that the trial judge's regular court docket needs continued attention during the litigation of a capital case. It is difficult to stay abreast of a regular docket because a death penalty case demands significant court time. During the Kleypas case, it became necessary to schedule hearings on weekends and during evening hours so that the regular docket was not neglected. This became a strain on our resources and on the clerks, court reporters, security, and attorneys."
Some might want to brush that off as a problem only in the smaller towns of Kansas.  But it's not just smaller jurisdictions that struggle with the impact of a capital case.  It can happen in larger counties as well.   In 2014, Shawnee County District Attorney Chad Taylor asked his County Commissioners for $150,000 in additional funding.  The Topeka Capital Journal reported "Taylor told commissioners in a recent memorandum that prosecution of the capital cases was stretching his office's resources and creating a domino effect.
He indicated the capital case prosecutions would require "many hours" of overtime work for his office's support staff and possibly make it necessary to acquire additional resources."
Large county or small, the time spent on capital cases is time that isn't able to be spent on the many other cases that the prosecution, defense, or courts are concurrently handling.
The Human Impact
The toll of capital punishment goes well beyond dollars and cents and even how it affects other cases.  It also can affect the justice system personnel.
In a recently released video, former Florida Chief Justice Gerald Kogan, said this  "How did I feel when as the Chief Justice of the Court on so many different occasions that I would have to sit there and my word would be the last word as to whether or not the person who is sitting in the death chamber lives or dies?  It puts the whole thing on me.  That's not good.    As the Chief Justice even though I may believe that this particular person should not be executed, I still have to tell the Governor's counsel that there are no stays of execution even though I know we're making a mistake."
Former Bexar County Texas District Attorney Sam Millsap prosecuted a man who was executed and who later was found to likely be innocent.  ""I didn't say anything about the Cantu case for about six weeks after I realized how serious my error had been…."I got up and I started talking, and I realized the toll that it had taken. I simply couldn't talk about it without sobbing."
Both Justice Kogan and former DA Millsap ultimately spoke up in favor of death penalty abolition.