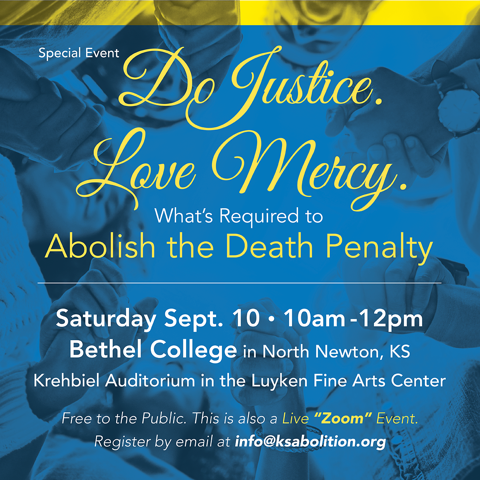 Join Us for this Special Event!
Panelists:
Peter Goerzen, Professor of Bible and Religion, Bethel College
Donna Schneweis, Board Chair, KCADP
Ron Wurtz, Retired Federal Public Defender, First Director of the Kansas Death Penalty Defense Unit
Katie Rose Friesen Birkey, Bethel College Student
Steven Becker, Former District Court Judge 27th District/Kansas State Rep. District 104
Wilma Loganbill, Murder Victim Family Member
Attendance Options:
In person: Krehbiel Auditorium, Bethel College North Newton
Virtual:   Zoom
Event is open to KCADP members and the general public.
No admission charge.
To register:  Email info@ksabolition.org and specify your attendance preference (in person or virtual)
Sponsored by:
Bethel College Bible & Religion Dept.
Kansas Institute for Peace & Conflict Resolution
Kansas Coalition Against the Death Penalty